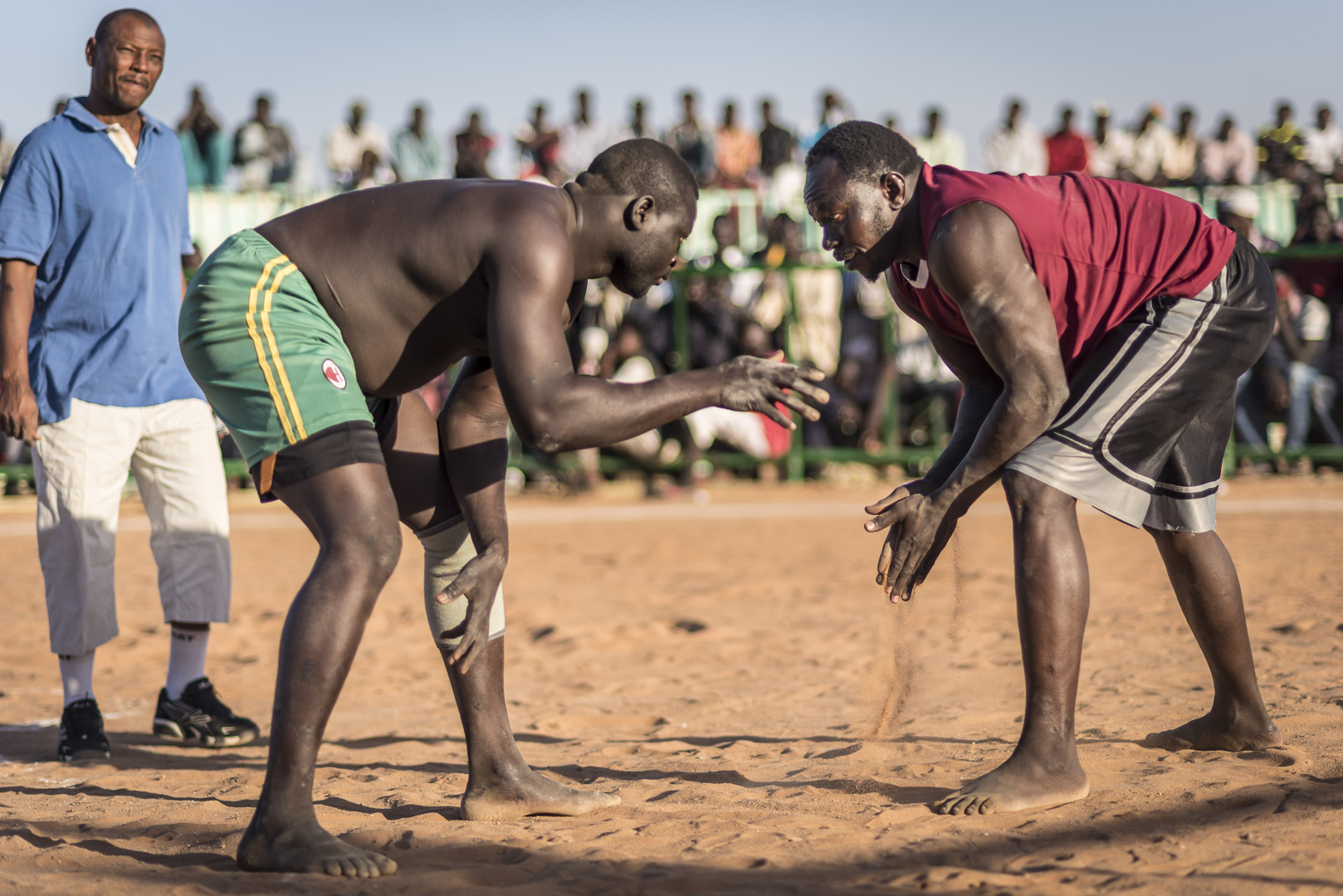 At the end of 2018, almost exactly one year after I began my journey, I returned to Sudan. Gosia, my wife, was working for three months mostly in Khartoum and I could join her for six weeks. This time I didn't try to explore the whole country but spend all time in greater Khartoum which offers more than enough intriguing places and welcoming people. One of my favourite places was the wrestling arena in the eastern outskirts of Khartoum. Three times a week several wrestling clubs meet here for competition. It was an unforgettable experience to see the fights fueled by testosterone and an enthusiastic crowd.
The wrestling arena
The arena is hard to find if you don't have a GPS location. When I tried to get there one year ago I was given so many different directions that I gave up quickly. Many people heard about it but only few have actually been there. Wrestling is definitely not a national sport like football with just one arena for a few thousand spectators in a metropolis of more than 5 million people. However, this time I was lucky to meet Paul Hayes who is doing his PhD in anthropology about Nuba wrestling. He attended many competitions as part of his research and offered me to join him in one of the many mini buses heading to souq sita at the eastern outskirts of Khartoum.
This stadium was built in 2012, and can accommodate a couple thousand spectators, who each pay 10 Sudanese Pounds (USD 0.20) to enter. This is currently the only dedicated wrestling stadium in Sudan. Elsewhere in Sudan, such as in the Nuba Mountains, wrestling takes place in an open field.
Background, rules and sideshows
Nuba wrestling originates from the Nuba peoples, who are a diverse group of ethno-linguistic identities, based in the Nuba Mountains region of Sudan (near the border with South Sudan). Since the British colonial era, many Nuba migrated to Khartoum. Nowadays, ethnic groups other than the Nuba also participate in wrestling.
In Khartoum, there are eight wrestling clubs that compete at this stadium: The Falcons, The Hawks, Lion's Heart, Kordofan Crescent, The Tanks, The Gazelles, The Volcano Union, and The Jungle Lions.
The Sudanese Wrestling Federation of Khartoum is responsible for assigning each athlete into three different ranks: novices (lion cubs), centres, and elite players (knights).
The tactics of Nuba wrestling
The wrestlers each take turns to challenge an opponent who they wish to wrestle. The athletes can only challenge opponents at the same rank, or a higher rank.
The aim of the game is to trip or dump your opponent onto the ground – his back, torso or butt must touch the ground.
Each match lasts four minutes, and is overseen by a referee. Punching, kicking and grapping clothes are not permitted.
Tactics include: distracting your opponent by tapping his head, tripping your opponent by grabbing his ankle or by sliding your leg underneath his leg, or lifting your opponent's body entirely and dumping him on the ground.
Occasionally the wrestlers get injured. However putty download windows , for the most part, the wrestlers treat each other as friends or brothers. Although they are keen to win and show-off their athletic prowess, there is very little animosity between them.
It is common for wrestlers to carry each other around the arena on their shoulders. Sometimes the winner will carry the loser, or the loser will carry the winner, as a sign of mutual respect.
The spectators include a host of colourful characters, self-appointed mascots and cheerleaders.
A big thank you to Paul for sharing his invaluable knowledge about Nuba wrestling puttygen download , writing captions and descriptions giving you the background of the pictures. If you want to know more about Nuba wrestling you can contact Paul under paul.hayes@anu.edu.au
Below you will find a short film made by Paul about the wrestlers of Khartoum after the revolution in 2019: