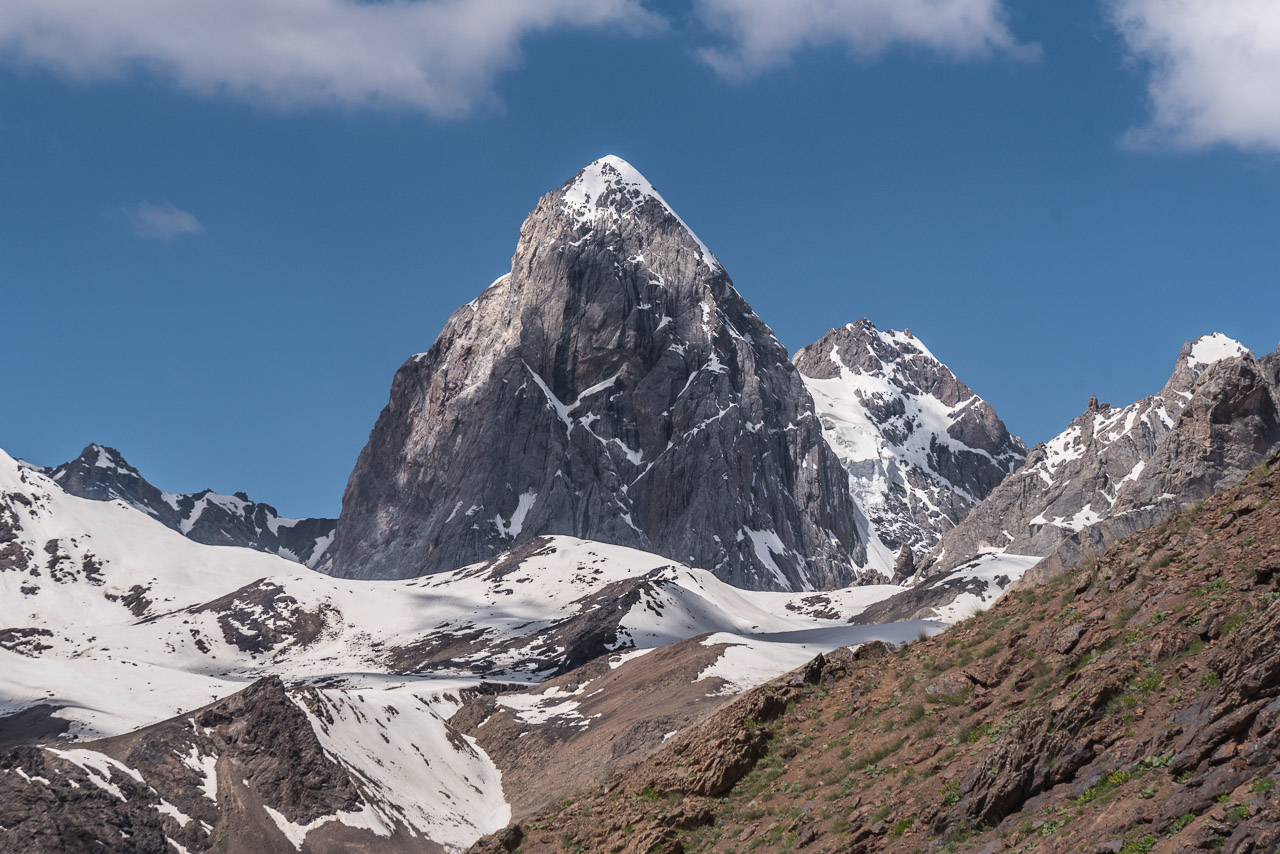 I had mixed feelings when I stepped into the aircraft leaving Poland. I have been dreaming of visiting Central Asia and its breathtaking landscape for years. I still could remember the geography lesson during which for the first time I heard about the fascinating countries that looked so different from mine. Our teacher enthusiastically showed us slides of glaciated mountains, barren deserts and endless green meadows that he had taken during his trips to the "stans" in the 70's. However, after eight months of backpacking I felt a bit tired. Travelling on my own with no predefined itinerary gave me the freedom of choice I was after, but also required taking care of everything, everyday. The daily routine of finding transportation, searching for a good place to eat and finally a bed to sleep in can be tiresome after a while. Anyway, the pictures that I saw when reading up on trekking routes in Tajikistan restored my enthusiasm 🙂
I spent two days in Dushanbe to get a bit acclimatised to the hot climate and a four-hour time shift. In contrast to other capitals, Dushanbe is quite calm and relaxed and seems to lack major traffic jams that are a burden for most metropolis these days. The cityscape ranges from Soviet-era blocks that haven't seen maintenance since Stalin's death to newly finished ostentatious buildings decorated with (badly photoshopped) pictures of the omnipresent President Rahmon acting as great statesman, as farmer, as teacher… you name it.
Remembering the advise from Shiva, one of the three hosts of the fantastic Gileboom homestay in Northern Iran, I planned to start my visit from the Fann mountains in Western Tajikistan, before heading eastwards to the Pamir, the Wakhan valley and finally crossing to Kyrgyzstan from where I would return to Germany.
I was hoping to find a companion for trekking in the Fann mountains in Dushanbe. A fellow traveller would not only mean a lighter backpack as we could divide the cooking equipment and tent between us, but also would ease my uncertainty about the challenging trek that I planned to take and that I compiled from a few GPS tracks available on wikiloc. The track leading through the Kaznok pass (4040m), which I was supposed to reach after two and a half days, is said to be quite technical in the summer when the sun transforms the snow into ice and crampons might be required for the descent on the northern side. However, as none of the backpackers I came across in Dushanbe was heading to the Fann mountains and I did not get a response to my message in the Lonely Planet forum, I had to continue on my own. But it wasn't the first time I was heading off to the mountains alone.
Traversing the Fann mountains
Due to a lack of public transportation I used a shared taxi to Sarvoda and another taxi to reach Iskanderkul, the turquoise lake where my trek began. A group of men who were having a picnic near the shore invited me to have some bread, salad, kefir and tea with them. I was also offered vodka, but rejected it. Two shots in the midday heat would have wasted me for the rest of the day. After thanking the guys for the unexpected lunch, I slowly continued uphill in the baking sun. More than an hour after I had left the last village behind, I reached a place where according to my map a bridge crossing the quick and an ice-cold river was supposed to be located. Unfortunately, not much was left from it apart from two piles of rocks that once held the wooden bridge in place. Checking the GPS confirmed that I was at a place where the author of the GPS track crossed the river. As I couldn't continue on "my" side of the river due to the steep scree, I took off my trousers and tried to cross the river barefoot in the most shallow place. However, mid-distance, the water was reaching my hips and the sticks that I used for support would not stay in the ground due to the irresistible pressure of the current. With no other option, I turned around and reached the river bank I came from just before I lost control of my freezing legs. After a short break to warm my hurting legs, I decided to return to the village where I had seen a newly built suspension bridge. This bridge did not bring me directly to where I wanted to go as it was downstream of the confluence with another river, but I was lucky to find a makeshift bridge that crossed the second river before nightfall. I didn't sleep deeply that night. The bears and wolves from the sign at the entrance to the national park were running around my tent all night long, at least in my mind 😉 The next day brought me all the way up to the foot of the critical Kaznok pass. I did not see a living soul until late afternoon when a shepherd saved my skin from his furious dogs.
The steep and pathless ascend to the Kaznok pass on 4040m required all my stamina and patience. Most of the slope was covered with treacherous scree that gave little resistance to my boots. Anyway, the view from the pass on Chimtarga (5489m) and the glaciers hanging on its slopes was a fantastic reward. Moreover, the descent route was in an acceptable condition as the snow was soft and parts of the route were cleared by a herd of sheep that must have crossed the pass in not so distant past. A carcass of a sheep below the steep passage reminded me to remain careful in such a remote place. Lake Mutnyi, below the steep slopes of Chimtarga, was a nice place to pitch a tent. I shared the shore with a family from Halle, Germany and their guides, cook, and donkey handlers. After two days and nights spent alone in the wilderness, it was great to talk to other human beings. I hiked round Chimtarga along a series of lakes and across the Alaudin pass (3850m) reaching the gorgeous Dushakha lake in the evening. A group of Russian students had their tents pitched there when I arrived. When they noticed me, they invited me for tea, deer jerky and dates all of which I couldn't resist after four days of porridge, muesli bars and Asia noodle snacks. The way back to civilisation, namely the village of Artuch, featured more secluded turquoise lakes and waterfalls. Virtually every valley dweller that I came across invited me for "chai", the Russian word for tea. However, "chai" usually turned out to be lunch with home baked bread, kefir, noodles with vegetables and finally, a cup of tea. When I reached the main road, I was super lucky to be picked up by a friendly man who was on his way back to Dushanbe.
Trekking in the Pamirs - from Bartang valley to Ghund valley
I learnt my lesson and restocked in Dushanbe with a greater variety of food before I took a shared 4WD taxi to Rushan, one of the few towns in the sparsely populated Pamir mountains. The second half of the 14-hour drive to Rushan was a picturesque adventure. The car follows a narrow dirt road that elongates the torrential Panj river which serves as natural border between Tajikistan and Afghanistan. We arrived in Rushan at 11pm and luckily a fellow passenger offered me and one other girl from the shared taxi and who lived in a village far away, to spend the night in her house. It turned out that the girl, Ruina, lived in Bardara, which was exactly the village where I wanted to begin my trek. Needless to say, she offered me a ride for the next day when her father was scheduled to pick her up. I could hardly believe my luck, but also I did not yet know all circumstances of that ride 😉 I thought that we needed three to four hours for the 90km to Bardara and got a bit nervous when Ruina's father did not come after lunch but at 5 PM. After some shopping we left the town at 6:30 pm but didn't get far before we had to change one wheel with a buckled tyre. It took the two young men accompanying us just a few minutes to exchange it with a spare tyre. One hour later another tyre burst, but the guys seemed unmoved and exchanged the blown tube with tube of the buckled tyre. Lesson learned for trips on remote dirt roads: use tubular tyres and don't leave home without a crowbar and a foot pump! Unfortunately, Ruina realised that she had left an important bag in Rushan and returned to fetch it with the two guys. It was already after 10 PM when they finally picked me and her father up again and we continued to Bardara. As if this hadn't been enough, the engine of the worn out Lada Niva began to overheat and we had to stop every 10km to cool the engine down with water from the nearby river. At around 3 am the engine ultimately packed up. None of the various tricks that worked before brought the engine back to life. Luckily, we were just a few hundred meters away from the next village where Ruina's father, who serves as a doctor of the villages around Bardara, had friends. In the middle of the night, we stumbled into their unlocked house waking all of them up. As if they had been expecting us, they quickly rose to their feet and started preparing tea and a snack. I was offered a mattress and fell asleep instantly while the other began to chat. At 6 am, I was woken up by Ruina who informed me that the engine was miraculously running again. At 8 am we finally reached Bardara after a trip that took almost 14 hours.
After a hearty breakfast I set off, accompanied by Ruina's brother Nurajot (Нураёт). Before noon we reached the last houses of the town and Nurajot suggested we should have tea at his friends' place. His friend wasn't there but his younger brother and his mother welcomed us warmly and did not hesitate to offer me tea and sweets. The word about a foreigner in the village spread quickly and a handful of villagers came over to verify the news. A very tasty potato and vegetables soup was quickly prepared and served with home baked bread. Surrounded by lush green meadows and fields, the village is a perfect idyll in the summer but I assume that the life in small and simple stone houses on 3000m altitude is a real challenge in the winter. I continued my trek after lunch accompanied by Mansur, the youngest of three, who kept me company until we reached a meadow where his two brothers grazed sheep. I walked as long as I could until the night fell, knowing that crossing the 4850m high Shtik Lazar pass the next day will be challenging. From Sven, a good friend of mine who did almost the same route a year ago, I knew roughly what awaited me. On the first steep slope towards the pass I met a Czech couple who was trekking the same path but in opposite direction. They had started the trek from Bachor, my destination, six days before we met. Looking on my backpack they seemed rather sceptical about my plan to traverse the pass in one day: "You are my hero if you manage to cross this pass today!" With these words in mind, I hurried up and gave it my best to reach the meadow behind the pass. Closer to the pass, the trail disappeared in the scree and I had to carefully choose my way through loose rock and boulders. The deep snow on top of the pass slowed me to a snail's pace. I was more than happy when I finally saw the meadow 300m below the pass after 12 strenuous hours. I was so exhausted that I slept quite well despite the altitude of 4550m. Next day, I continued to lake Zarojkul where I enjoyed the fantastic view with plenty of wild flowers and glaciated mountains in the background. Taking a look on the map, I found an tempting detour that led towards a glacier flowing into a lake. On the map it looked as good as the other trail. In reality, there was no path but only steep scree with snow on the southern shore of Zarojkul. Anyway, the unforgettable campsite at the glacier lake was worth the effort. The way back to the main trail to Bachor over numerous hills of scree and loose rock was painful and required my full attention. At noon, I reached the trail again, around 20km away from Bachor, where kefir, fresh Pamiri bread and a hot shower waited for me, according to my imagination 😉 Four to five hours later when I asked for accommodation in the first house of Bachor, I was in luck to find a hot shower in reality 🙂
Stay tuned for the exceptional landscape and people in the Wakhan valley as well as nomad games in Kyrgyzstan.